Gallery - Photoshoot, red carpet, with family & friends, screen captures, with her fans... Discover or re-discover a pretty bunch of pictures of our beautiful Leighanne.

Graphics & Fanarts gallery - wallapers, icons, signatures, animations ...

Press Archive - online archive of various articles, magazines, Q&A ,interviews.

Forum - Meet, chat and have fun with other fans from all around the world !




.

Are you a Leighanne fan ?
a Wylee addict ?
Join the Leighanne Littrell fanlisting and the Wylee Fanlistings!
Brian Littrell Central
Spend your holiday season
with The Littrells ...

Brian Littrell's Family Christmas
Christmas With The Littrells
[ infos ]


"Simply Leighanne" is an unofficial website.
I am NOT Leighanne Littrell. I am NOT affiliate with her or/and her family.
This website is run by one of her fans for her fans.
Pink Sale at Wylee !!!
Pink sale at Wylee just in time to spoil your valentine or / and YOU hehe ;)
Look for products with a pink "sale" tag and save for a limited time only !!!!





Visit WyleeBags.com NOW !!!!! Happy Shooping : )

UPDATE
Enter "LOVE" at checkout to save $10.00 off any purchase $60.00 and up.
Source: Wylee Facebook
POTM for february 2012
New month = new POTM hehe ; )
This picture of Leighanne and brian got 41.03% of your votes !
Leighanne chirped it while they were at a Braves games in May 2011 ...




You can already vote for the picture you would like as the POTM for March ...
Check the POTM page ;)
[ miscellaneous ] RIP Leslie Barbara Carter
Leslie Carter - a sister of Nick Carter from the Backstreet Boys - died Tuesday in upstate New York at the age of 25 ...
Nick, his entire family, Leslie's husband and Alyssa Jane - who will grow up without her mommy by her side - are in my thoughts and prayers ...
May you RIP Leslie ...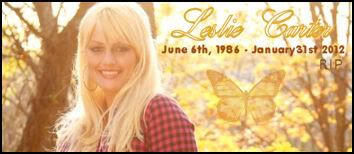 Leighanne tweeted :


Wylee Spotlight #8
Wylee Spotlight #7
[ Twitter ] Suzanne ROKing a Wylee vestesity :)
Leighanne shared a picture of her beautiful sister - Suzanne.


"Suzy loves her vest!!!!fun Wylee parties today!!!!"

( click on the miniature to be redirected to the gallery )



Suzanne is wearing a Wylee Chinchilla Argentina Reversible Vestesity (Fabulous Faux) .... You can find it HERE;)

Source: Leighanne
Wylee Great Gee Giveaway - and the winner is .....
[ twitter ] Update photos
The lastest pictures Leighanne chirped ...

• Twitter Pictures - + 2 photos ( #432 and # 433 )

#1 - "We really do live in an aquarium! LOL! Ahhhhh Shark!!!"
#2 - " I have more in stock!!!!"





Source: Leighanne

PS - Like the necklace on the photo #2 ?? This is the Brian's Cross necklace. You can purchase it at Wylee ... Hurry up because it goes pretty fast !!!!
Click HERE to be redirected to the page at Wyleebags.com .
Update Gallery
I FINALLY take the time to update the gallery with photos Stephanie and Jennifer kindly shared with SL.net ( Thank you VERY much ladies!!!!!! )
I hope you'll enjoy :)

• NKOTBSB Tour - Montreal QC ( +1 photos - #012 )
• Wylee Party @ Chicago IL ( 11 photos )
• SS Backstreet 2011 ( + 5 photos - #003 to #007 )




Thanks to Stephanie and Jennifer
Do NOT use without the ladies' permissions !!
Photos from AJ & Rochelle wedding.
I added to the gallery two photos from AJ and Rochelle McLean wedding ( december 17th, 2011 )
Those two pictures are from Ok! magazine uk ( issue of January 2012 ) ...



( click on the pictures to be redirected to the gallery )



Thank you very much Isla for sharing the scans with us / SL.net : )
<< Previous 1 2 3 4 5 6 7 8 9 10 11 12 13 14 15 16 17 18 19 20 21 22 23 24 25 26 27 28 29 30 31 32 33 34 35 36 37 38 39 40 41 42 43 44 45 46 47 48 49 50 51 52 53 54 55 56 57 58 59 60 61 62 63 64 65 66 67 68 69 70 71 72 73 74 75 76 77 Next >>