Gallery - Photoshoot, red carpet, with family & friends, screen captures, with her fans... Discover or re-discover a pretty bunch of pictures of our beautiful Leighanne.

Graphics & Fanarts gallery - wallapers, icons, signatures, animations ...

Press Archive - online archive of various articles, magazines, Q&A ,interviews.

Forum - Meet, chat and have fun with other fans from all around the world !




.

Are you a Leighanne fan ?
a Wylee addict ?
Join the Leighanne Littrell fanlisting and the Wylee Fanlistings!
Brian Littrell Central
Spend your holiday season
with The Littrells ...

Brian Littrell's Family Christmas
Christmas With The Littrells
[ infos ]


"Simply Leighanne" is an unofficial website.
I am NOT Leighanne Littrell. I am NOT affiliate with her or/and her family.
This website is run by one of her fans for her fans.
[ Twitter ] Find your light ...
Beautiful words and photo Leighanne shared few days ago ...

• Twitter Pictures - + 1 photos ( #394 )


"Remember to always find your light, the things that make u feel happy and alive!
That is what this flower is doing! A great reminder! Had to share"


Source: Leighanne
SL 1st forum contest !



I just start the very first contest of the SL forum !
The contest is a quiz about the Littrells and Wylee... Test your knowledge !!! ; )

The winner will win a Wylee gift certificate of $25 !
Deadline - October 25.

Wanna try ?? Visit / Join the SL forum right now! ( check under the category "General" > "SL Contests" )
GOOD LUCK !!!! : )
POTM for October
October is here therefore the Picture Of The Moment is up on the sidebar :)

This picture of Leighanne ,taken during her biggest Wylee party last year in GA, got 52% of your votes!




A new poll is already up at the POTM page .... Vote now for the picture you would like as POTM for November 2011 !
You can choose btw 3 photos of Baylee and his mommy ( pictures from their last summer vacations).
I made this selection of mommy/son pictures because November is Baylee's birth month :-)
Wylee Mega Makeup Giveaway - And The Winner Is ....


CONGRATULATIONS ASHLEY !!!!!


Source: Wylee
[ twitter ] Update photos
Heres photos Leighanne and Brian chirped during the weekend...

• Twitter Pictures - + 2 photos ( #392 and #393 )


#1 - "We won again!" ( Leighanne )
#2 - "How quickly time flies. Just yesterday I was holding him in my arms. ;) makes me so proud, he's all growd up. Chirp hahahahaha" ( Brian )


Source: Leighanne and Brian
[ Twitter ] from a hyperbaric chamber ....
Leighanne chirped a picture from a hyperbaric chamber, where she was with Baylee ...


"Baylee and I in the Hyperbaric Chamber! We Love oxygen!! "

( click on the picture to be redirected to the gallery )



Source: Leighanne
[ Twitter ] New profile picture
Leighanne changed her profile picture on Twitter and now use this beautiful photo of her and Baylee. : )



( click on the picture to be redirected to the gallery )
[ Twitter ] Baseball Game
Yesterday afternoon, Leighanne chirped photos from Baylee's baseball game ...

• Twitter Pictures - + 3 photos ( #387 to # 389 )


#1 - "Here we go again! It's baseball time! "
#2 - "Go Baylee!!!!"
#3 - "We won!!!"


Source: Leighanne
[ Twitter ] "Good Morning" photo :)
Leighanne chirped a good morning picture yesterday :)


"Goodmorning chirpsters! This is what I get to wake up to :o)"

( click on the picture to be redirected to the gallery )



Source: Leighanne
[ Wylee ] The Mega MakeUp Giveaway Sweeptakes
Posted on the Wylee Facebook Page.


By now you've all heard about our Mega Makeup Giveaway, and most of you have seen the picture of what you're winning! So, here's a breakdown of what you'll be getting: a wrap full of some of Leighanne's favorite cosmetics and tools, and a few samples she collected and thought you might like! (All together, this Mega Makeup Giveaway is valued at $350!)

Inside you'll find:
MAC Bronzing Powder
Estee Lauder Concealing Duo
Estee Lauder Lipstick in Barely Nude
Lancome Lipstick in The New Pink
Lancome Subtle Blush
Lancome Color Design Eye Shadow
Estee Lauder Pure Color Eye Shadow
Lancome Juicy Tubes Smoothies
Bobbi Brown Long Wear Gel Eyeliner
Estee Lauder Advanced Night Repair
"Pleasures" (perfume) by Estee Lauder
"In Love" (perfume) by Treson
"Hypnose" (perfume) by Lancome
Estee Lauder Soft Clean Tender Cream Cleanser
Excessive Black mascara by Lancome
Definicils mascara by Lancome
Lash Blast Fusion by Cover Girl
Angled Blush Brush by Sephora
Small Eye Shadow Brush by Sephora
Large Eye Shadow Brush by Sephora
Lip Leveler Brush by Sephora
Powder Brush by Sephora
Ultra Fine Brush Eye Liner Brush by Bobbi Brown
Applique Brush by Lancome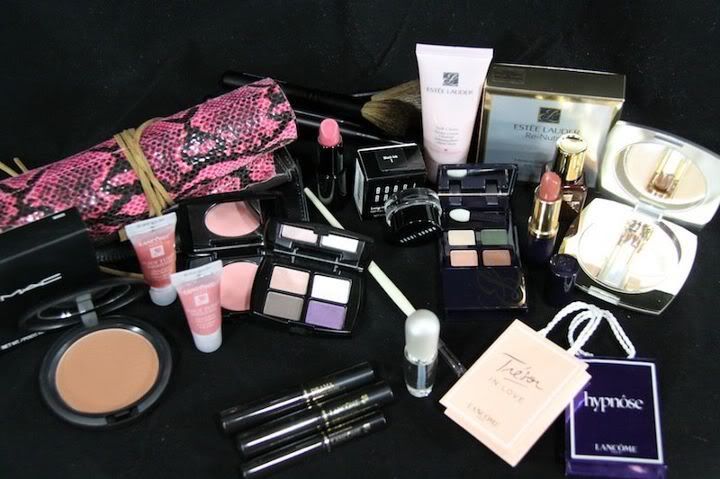 Click on the picture or HERE to be redirected to the makeup bags page at Wyleebags.com !
GOOD LUCK / HAPPY SHOPPING WITH WYLEE !!
<< Previous 1 2 3 4 5 6 7 8 9 10 11 12 13 14 15 16 17 18 19 20 21 22 23 24 25 26 27 28 29 30 31 32 33 34 35 36 37 38 39 40 41 42 43 44 45 46 47 48 49 50 51 52 53 54 55 56 57 58 59 60 61 62 63 64 65 66 67 68 69 70 71 Next >>